Salam,Oya guys!
Haila!
Lame gileps xupdatecite sal Bangkok kan?Malas nak upload photo r.2 r,manyak amat ko pic2nye.eke3.Neh aja tataw bape lame perap lam draft.Bawu wajin nak menaip neh.ki3.So layan jela.ngeee.;DDD

DATE;131208
TITLE;

FAV PART's COPPING MOPPING!
Haila!
Neh memang the besh part yang dinanti2kan oleh aja+umi+aqish!Atenye orang pompuan,wajib la copping mopping!Dari penat tewos ilang penat!eke3.
Seriously rambang mateee!
Haila!
Tataw nak masuk kedai mane 1.Konsep kedai camne eak,aja tataw nak explain.Tapi die punye kedai memang besh!Kalo tengok cam butik mahai pom ade.Tapi harga very the cheap taw!Pastu kalo pandai bargain lagi la very2 the cheap cam chipsmore!eke3.
Haila!
Memang boleh jadi gileps wooo shopping kat cneh!
Ayoh la pening pale kena ikut bini+anak2 dare die neh becopping.eke3.
Haila!
Tapi ayoh tetap sporting k.Mekaseh ayoh diatas tahap kesabaran anda!hiksss.;DDD.Yolah,nak biarkan anak bini jalan sendiwi bahaye la.Mukan kat negera kita,negara orang weyhhh.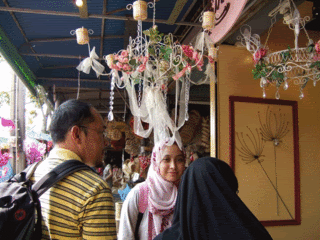 Aja memang dah pusinggg amat dah nengok manyakkk mende!
Haila!
Kalo den kayo,semua den boliii.hiksss.Seriously manyakkk amat kedai yang weols tak nyempat nak masuk.Gilepsss besooo chatuchak market neh.Sampaikan ade peta ok.Tapi nan ado sempat la weols nak membelek peta nye.Pakai redah ajo.
Haila!
Weols baru jalan separuh je,tuh pom dah gileps penat N dah sampai nak kat maghrib baru reti balik ko.Dahla cab takmo anto coz weols tataw kena naik jejantas N kat other road baru cab nak mek anto ke Khao San Road.Weols naik Tuk2 4orang N 50bhat=R5 per person.Uols ley bayangkan camno weols 4beranak naik sebuah Tuk2.
Haila!
Gilepsss sempit weyh!Tapi dah nan ado pilihan,naik jola.Weols memang dah penattt amat(
tapi bile nengok barang2 yang dicopping,tewos ilang penat!eke3
).Lam penat2 tuh,ade niat lagi wooo nak P chopping kat cneh pada keesokan harinye.Dasyat tak dasyat orang pompuan.=PPP.Ayoh makin pening jadinye.kui3.Takpe,sekali sekale.he3.Ok lah,tunggu mood nak update sal next story lak(
bekurun la jawapnye.=PPP
).So...
TC N bUbye 4NOW.

Nota

HAILA

;Gileps windooo ngan bandar BANGKOK!!!Especially the food!hu3.

Auto Publish~
Lots of lurv,
♥
aja
♥